A LEAVE OF ABSENCE, or a possible farewell to the Keyboard, 1/21/09:
My purpose for the Keyboard was to inform. It was to make clear my view that the leadership of our country, since January, 2001, was not legitimate, and to shine a light on the consequences of that illegitimacy. I felt the democratic system the Founders left us was endangered not only by the illegitimacy itself, but by the lack of respect those in power had for that system and for our Constitution.
With the inauguration of Barack Obama, legitimate government is restored to the U.S. The system the Founders gave us corrected itself.
Not only is legitimacy restored, but a great majority of the American people now understand the consequences of illegitimate government. They have seen the damage inflicted by government – not of, by and for the people – but of Dick Cheney, by Karl Rove, and for George W. Bush. They can look around them and see where that kind of government has brought us.
I have no interest in criticism of President Obama as he tries to pick up the pieces, make us whole again, and take us forward together. He faces odds that seem insurmountable. But we have faced those odds before. And leaders of greatness -- leaders able to lead with the power of words – have appeared to lead us: the Founders, Lincoln, FDR. It may take adding Barack Obama to that list for us to endure, and I believe he may possess the greatness we need.
The final words on every page of the Keyboard have been words I did not believe when, in the darkest days, I first posted them. But I was wrong.
"I know you are asking today, 'How long will it take?' I come to say to you this afternoon however difficult the moment, however frustrating the hour, it will not be long, because truth pressed to earth will rise again.
How long? Not long, because no lie can live forever.
How long? Not long, because you still reap what you sow.
How long? Not long. Because the arc of the moral universe is long but it bends toward justice."
-- Martin Luther King, Jr.; 25 March 1965
***
***
***
CNN: PRESIDENT OBAMA CALLS FOR HALT TO GITMO PROSECUTIONS
http://www.cnn.com/2009/POLITICS/01/21/gua...
***
***
WP/AP: PRESIDENT OBAMA HALTS ALL REGULATIONS PENDING REVIEW
http://www.washingtonpost.com/wp-dyn/conte...
"One of President Barack Obama's first acts is to order federal agencies to halt all pending regulations until his administration can review them. The order went out Tuesday afternoon, shortly after Obama was inaugurated president, in a memorandum signed by new White House chief of staff Rahm Emanuel....The waning days of former President Bush's administration featured much debate over what rules and regulations he would seek to enact before he left office."
***
***
***
* CNN ON-AIR: OBAMAS DANCE THEIR WAY THROUGH NIGHT OF INAUGURAL BALLS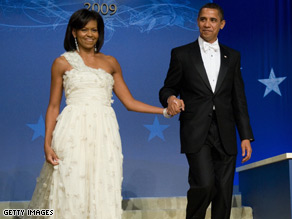 President Obama with First Lady Michelle Obama; her Inaugural gown is by Jason Wu
* VIDEO: THE OBAMAS' "FIRST DANCE," AT THE NEIGHBORHOOD BALL, AS BEYONCE SINGS "AT LAST"
http://www.youtube.com/watch?v=3RRBYxZ7uxA
***
***
CNN ON-AIR: INAUGURAL PARADE MARCHES UP PENNSYLVANIA AVENUE
***
***
CNN ON-AIR: PRESIDENT AND FIRST LADY ATTEND LUNCH AT THE CAPITOL AFTER INAUGURAL CEREMONY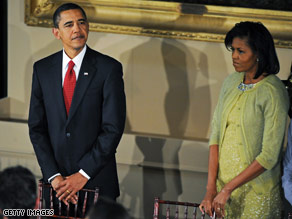 President and Mrs. Obama
***
***
CNN ON-AIR: OBAMAS, BIDENS ESCORT BUSHES TO HELICOPTER; IT TAKES OFF, BOUND FOR ANDREWS AIR FORCE BASE, FROM WHICH THE BUSHES DEPART FOR TEXAS
MY FRIENDS AND FELLOW AMERICANS, THIS DAY DID COME -- HE IS GONE!!!
***
***
CNN ON-AIR: PRESIDENT OBAMA DELIVERS INAUGURAL ADDRESS FROM THE WEST FRONT OF THE CAPITOL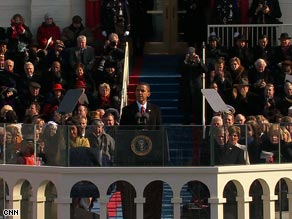 President Obama
Link to text of Inaugural Address:
http://www.cnn.com/2009/POLITICS/01/20/oba...
Link to CNN video of Inaugural Address:
http://www.cnn.com/video/#/video/politics/...
***
***
CNN ON-AIR: BARACK HUSSEIN OBAMA IS SWORN IN AS 44TH PRESIDENT OF THE UNITED STATES
***
***
CNN: THE OBAMAS ATTEND PRE-INAUGURAL PRAYER SERVICE AT ST. JOHN'S EPISCOPAL CHURCH
http://politicalticker.blogs.cnn.com/2009/...
/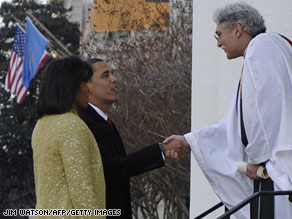 The Obamas arrive at St. John's Church
***
***
***
AP: CHIEF JUSTICE ROBERTS STUMBLES WITH WORDS OF PRESIDENTIAL OATH OF OFFICE
http://www.mercurynews.com/breakingnews/ci...
"At one point, Obama paused abruptly after Roberts reversed several words in the oath. The oath includes the phrase 'that I will faithfully execute the office of president of the United States' but Roberts didn't say 'faithfully' until after saying 'president of the United States.' Obama apparently realized that something was out of order. With Obama not reciting, Roberts then repeated the phrase correctly, the brief awkward moment ended and Obama was back on track."
***
***
LAT: WRITERS PRAISE OBAMA'S INAUGURAL ADDRESS
http://www.latimes.com/news/politics/inaug...
"More novel than short story; more ballad than poem -- most writers agree that restraint and plain speaking were the qualities that distinguished President Obama's inaugural address. Long on plot (and it will thicken), it did what literature does best: the backward glance, the standing on shoulders, the salute to ancestors and other sources of wisdom.
'He is our first (in the best sense of the word) aristocratic president,' said author and journalist Malcolm Gladwell. 'Bush was a buddy. Clinton was the kindly uncle. Obama is a prince.' And yet, Obama is also a writer, and writers were not at a loss for words. Author Ron Carlson was watching the president's syntax. 'What courage,' he said, 'to use a complex sentence talking to a million people! By expecting the best of us, he just might get it.'
Nonfiction writer Mark Kurlansky said the speech 'was the most sophisticated view of the world and our role in it of any inaugural address in history.'
Others felt the call to action. 'With an Obama speech, listening is sometimes enough,' said Pulitzer Prize-winner Thomas Powers, 'but not this time. The inauguration speech is one we ought to read. It strikes me as clear and determined and grounded in confidence that of course we are still in the middle of the American story, not nearing the end.'"
***
CBS NEWS: COLIN POWELL: "THE AMERICA WE REMEMBER IS BACK AGAIN"
http://www.cbsnews.com/blogs/2009/01/20/po...
***
CNN: FEDERAL SECURITY OFFICIALS INVESTIGATE INAUGURATION DAY THREAT
http://politicalticker.blogs.cnn.com/2009/...
/
***
NYT, PAGE ONE: HINTS OF AGENDA AND TONE FOR NEW FIRST LADY
http://www.nytimes.com/2009/01/20/us/polit...
***
* AP: MICHELLE OBAMA CHOOSES ISABEL TOLEDO DESIGN FOR INAUGURATION DAY
http://www.google.com/hostednews/ap/articl...
"First lady Michelle Obama wore a sparkling yellow-gold sheath dress with matching coat by Cuban-born American designer Isabel Toledo for the inauguration of her husband, a choice many applauded as a cheerful message of hope and a vote for the American fashion industry. She paired the embellished ensemble with green gloves from J. Crew and green shoes....
Their daughters were style icons in their own right, with 10-year-old Malia in a double-breasted periwinkle-blue coat with a blue-ribbon bow at the waist, and Sasha, 7, in a pink coat with orange scarf and satin belt, a coral-colored dress peeking out at the hem."
* LAT: MICHELLE WEARS JIMMY CHOO'S GREEN "GLACIER" PUMP
http://latimesblogs.latimes.com/alltherage...
***
* WP/AP: NEW YORK TIMES COMPANY GETS $250 MILLION FROM CARLOS SLIM
http://www.washingtonpost.com/wp-dyn/conte...
* EDITOR&PUBLISHER: DEBT-RIDDEN NEW YORK TIMES IN TALKS WITH MEXICAN BILLIONAIRE CARLOS SLIM FOR BIG INVESTMENT
http://www.editorandpublisher.com/eandp/ne...
***
***
MOM'S FEATURED VIDEO
BARACK OBAMA TAKES OATH OF OFFICE AS PRESIDENT, AND THE BAND STRIKES UP "HAIL TO THE CHIEF"!
http://www.youtube.com/watch?v=m1Yff-_9MZs
***
***
CAPITOL HILL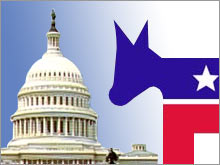 LAT: SENATE CONFIRMS SIX OBAMA CABINET CHOICES; CLINTON, DASCHLE, GEITHNER, SOLIS DELAYED
http://www.latimes.com/news/politics/inaug...
***
***
CNN ON-AIR: SENATOR KERRY REPORTS SENATOR KENNEDY IMPROVED; WILL BE HOSPITALIZED OVERNIGHT
CNN ON-AIR: SENATOR KENNEDY COLLAPSES AT INAUGURAL LUNCHEON, IS TAKEN AWAY IN AMBULANCE
CNN: SENATOR KENNEDY ATTENDS INAUGURATION CEREMONY
http://politicalticker.blogs.cnn.com/2009/...
/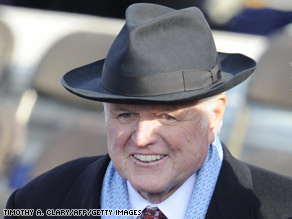 Sen. Ted Kennedy arrives on the Inaugural stage.
***
***
POLITICS
WP/AP: NEW YORK GOVERNOR PATERSON ACKNOWLEDGES HE IS CONSIDERING ATTORNEY GENERAL ANDREW CUOMO FOR APPOINTMENT TO HILLARY CLINTON'S SENATE SEAT
http://www.washingtonpost.com/wp-dyn/conte...
***
***
TO REPORT THREATS TO THE PRESIDENT: CONTACT NUMBERS FOR U.S. SECRET SERVICE FIELD OFFICES
http://www.secretservice.gov/field_offices...
***
CORRECT THE GULLIBLE! RESPOND TO SLIME IN FORWARDED E-MAILS!
Link to rumor-busting Snopes.com Barack Obama page:
http://www.snopes.com/politics/obama/obama...